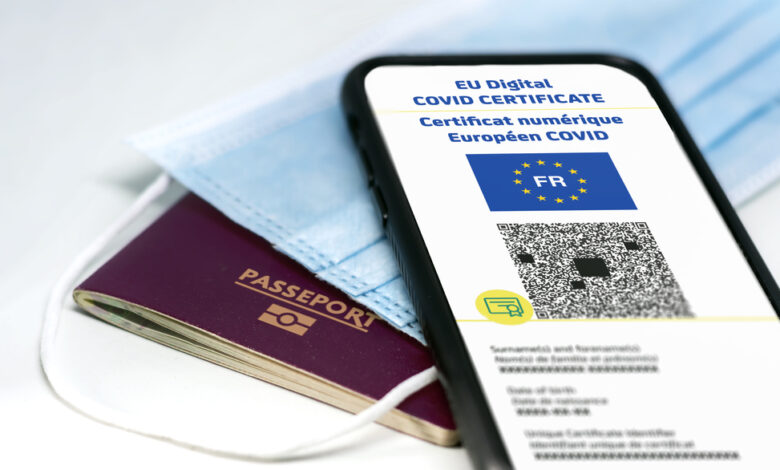 In the past months, COVID-19 restrictions have become a part of our daily life routine. All these measures are being taken for our safety but some people find them overwhelming. So, they have come up with innovative ways to skirt these restrictions. Amidst all this, a dangerous trend has swept across the world- the fake vaccine passport trend. No, it's not some kind of social media trend that requires you to perform risky stunts. It's a real-life trend that is being taken on by many anti-vaxxers and other vaccine-hesitant individuals.
What Are Fake Vaccine Passports And Why Did They Become A Thing?
With many people getting jabbed against COVID-19, the world saw an ease in pandemic restrictions. Safety measures, however, remained in place to curb the spread of the virus. One such step requires people to prove their vaccination status before entering public places. This is where vaccine cards come into play. These cards are given to those who have received a COVID-19 vaccine. Information such as the date of vaccination, the brand of vaccine, and the number of doses is printed on the card.
To skirt these vaccine mandates, people are forging their vaccination cards or buying counterfeit documents from the black market. Some of the reasons people are hesitant to get immunized against the Corona Virus are as follows:
They are apprehensive of the side effects of the vaccines.
COVID-19 doesn't seem like a big threat to them.
They simply don't believe that vaccines work.
Conspiracy theories about the pandemic and the vaccine are stopping them.
They don't trust the government.
These vaccine-hesitant individuals turn to the dark web to get immunity cards without actually receiving the vaccine. As a result, the black market for fake immunization certificates is soaring.
---
---
Some Reported Incidents of People Selling Fake Vaccination Cards
Bogus vaccine passports are gaining popularity as the health mafia has turned to famous social media platforms to attract a wider audience. The price ranges from $25 to $500 depending on how real the card would be made to look. Here are some authentic cases where people selling counterfeit COVID-19 vaccine documents were exposed:
A New Jersey woman going by the name of AntiVaxMomma on Instagram sold many bogus COVID-19 vaccination cards. She allegedly charged $200 for one card.
A few months back, a bar owner in Northern California was arrested after authorities found out he was selling fake vaccination certificates for $20 each.
A pharmacist sold COVID-19 immunity cards, priced at $10, on eBay.
Spotting Fake COVID Vaccine Passports
Here are a few tips and tricks to spot counterfeit vaccination cards:
Some scammers don't fill up all the necessary information fields which is the most common tell-tale sign of a fake card.
See if the dates of vaccination align with the dates when the vaccine brand got approved and became available for use.
If all the information on the passport is typed, it's another giveaway that the document is forged. People are supposed to fill out many information fields by hand.
The two doses of many vaccines are inoculated weeks apart. That's why chances are the shots would be administered by different people. If the handwriting for both fields is the same, you need to be careful.
Cross-referencing the information provided by a person with the state database is one of the ways to spot a fake vaccine document.
According to international compliance expert Compliance24.com, it will be almost impossible for a non-specialist to distinguish a real passport from a fake one, as fraudsters use official government systems to issue fake certificates.
---
---
Wrap Up
Getting vaccinated is the only authentic way of procuring a vaccine passport. Buying and selling bogus vaccine passes may get you into trouble since it is a state-declared crime. Also, not getting jabbed may pose a serious threat to your health.
Look out for fake vaccine passports and help to make this world a safe place for all!