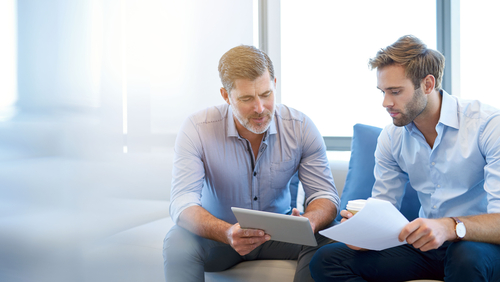 Most people will talk of their business success without intentionally mentioning their mentors. You might wonder whether you need a business mentor? Personal professional and business development do not only involve hard work, it is a collection of small entities such as consistency, passion, discipline, and mentorship. Even without professional mentors, people will often discuss their business ideas with family, colleagues, family members, and friends.
Currently, most graduates need business skills from a working environment rather than a class perspective. This is where business mentors are needed to improve business skills and assist with ideas, strategies, and ethics.
This is article will discuss the reasons we all need business mentors, why we do, and the benefits of having a mentor.
What Is Business Mentoring?
A business mentor is anyone who has more business experience than you and works closely with you to ensure you succeed in your entrepreneurial entities. Mostly, business mentors act as confidants, advisers, teachers, and managers free of charge.
Therefore, business mentoring is a professional relationship between a mentor and an entrepreneur(mentee). Through business mentoring entrepreneurs develop required business skills and strategies free of charge.
Why Do I Need A Mentor?
It is common to wonder whether or not to get a mentor in the initial stages of business. A business mentor is one of the most valuable assets in business.
If you are young or new in business, the best decision you can ever make is to get a mentor. Getting a mentor offers you new business perspectives and strategies to drive success. When you learn from someone who has years of experience, it is easy to avoid simple mistakes.
Learning from a mentor gives you the power to grow while knowing someone will support your ideas or reset the whole strategy if you are making mistakes. Moreover, a mentor is someone who can push you to work hard and attain your goals.
In most cases, they help identify your talents, strengths, and weaknesses giving you the ability to recognize areas you should work on.
A mentor/mentee relationship is a good way to ensure that entrepreneurs are responsible for their actions. Through follow-ups, a mentee becomes more proactive in completing assignments. Therefore, getting a mentee will help you become more responsible with your work.
Lastly, a mentor gives you knowledge that no one will teach in class. It is definitely an invaluable part of business growth that each entrepreneur should consider.
What Are The Advantages Of Business Mentors?
Easy to avoid mistakes in business
Having a business mentor helps you avoid mistakes by learning from his/her mistakes as well as successes. This way you can learn easily hence reaching your success faster. Mentors help mentees maneuver in the business world by sharing the most valuable lessons they have learned over the years.
Additionally, mentors help mostly understand business strategies better than their mentees. Therefore, it is easy to help when mentees get stuck by sharing strategies, tips, and tricks that engineer business growth.
Mentors help improve problem-solving skills
People say a problem is a problem solved. The best advantage of having a mentor is that you have someone to share your problems with. Through problem sharing mentors create a platform to discuss possible solutions hence improving your confidence and problem-solving skills.
Improved performance and productivity
A mentor volunteers to follow up on assignments they give to the mentee. They correct mistakes as well as provide guidance when mentees get stuck. This is a great way to improve one's performance and responsibility since you have someone to be accountable to.
Moreover, by providing better strategies, mentors help perform tasks within a shorter time as compared to when we have to figure out our strategies.
Having a business mentor improves your social network. Being in the business world for years, mentors have created a great network in different entities.
Since you are under their care, it is easy to access that network compared to when networking by yourself.
You develop lifetime business skills for free
A good business coach costs a lot of money. When you are new in business it's hard to pay for all expenses and still afford a business coach.
The best thing about mentors is that they are free and ready to help you grow your business.
Who Are The Top Business Mentors?
There are certain characteristics that top business mentors exhibit that make them instantly recognizable. These characteristics include:
Proper communication skills-They have a well-articulated way of conveying beneficial information to the mentee.
High emotional awareness and intelligence-They are keen in respecting the emotions and feelings of the mentee and their own emotions as well.
They are fair-They are easily able to communicate failures and successes to their mentee.
They are well networked-They have built and maintained a series of many business relations and resource contacts throughout their professional career.
They are willing to pend their time with their mentee-This means the mentor is very willing to spend an appropriate amount of time with their mentee
These are some of the universal characteristics used to identify a top business mentor. These factors can be used as a checklist to determine the best mentor for you.
How To Recognize A Fake Mentor?
A few things can help recognize a fake mentor. Some of the questions you should ask yourself when evaluating your mentor include:
Can I communicate openly with my mentor?
Can I fully trust my mentor?
Do we share the same values?
Is my mentor invested in my success?
If the answer to any of these questions is a no, try and evaluate what other benefits you are getting from your mentor. A good mentor should be someone you can communicate openly with, one that is invested in your success, and someone who shares your values.
How To Become A Mentor?
Becoming a mentor starts with the willingness to pass your experience and skills to someone. Once you have the will create goals to help you establish the mentee you looking for. Once you know that you can look for a mentee through your network or in your organization.
Set clear expectations for your mentee and start building an effective mentoring relationship.
What To Look For When Choosing A Business Mentor?
Some of the things you can look at when looking for a mentor include:
Someone who shares your values
Someone you wish to be like – In simple terms, look for a mentor who has attained a level of success you admire.
Someone willing to build a long-term mentoring relationship
Select someone with knowledge in the field that you are willing to pursue
Select a mentor who can challenge your perspective.
If you are looking for a mentoring team that includes specialists in various fields such as business strategy, marketing, sales, accounting, etc. you should try services such as Rent-a-Company.
Conclusion
Thus it is clear to see that a mentor is indeed an invaluable asset in the line of entrepreneurship and building a business, as they demystify what we may have not understood and also help us avoid common mistakes within our businesses. They may also serve as a role model, thus enabling you to strive to be a better person. Moreover, you will gain a companion to traverse the business world with.